The Women Who Are Changing the Face of the NFL
On the eve of this year's training camp, Katie Sowers was packing and about to travel from Kansas City to San Francisco for a coaching internship with the 49ers. She knew that she'd be working with the receivers, on Kyle Shanahan's staff, through the first preseason game. But beyond that?
"That's a great question," Sowers said in late July. "I'm going to be chasing that full-time career. That's kind of the scary part, but it really it sheds light on what people have to give up in order to get to where they want to go."
A year ago, Sowers left her job as the athletic director for the City of Kansas City to do her first camp coaching internship with the Falcons. They kept her on as a scouting intern for the season, and all the way through this year's draft. It was a gamble, quitting a full-time job that she loved for internships upon internships in the ruthless business of the NFL.
"A lot of people thought maybe I was crazy, but in order to really take a chance to get into this career, I had to give up a lot," said Sowers, 31. "The times where it's hard are when I stop and think, Wow, I don't really have a home right now. It's scary, but there's a lot of hope behind it, just because I've pretty much given myself to this dream that I have of working in football."
Last Saturday night, she shared an important piece of news on her Facebook page: She had accepted a full-time, season-long coaching position with the 49ers. In her post, she thanked Falcons assistant general manager Scott Pioli for opening the door to her first opportunity in the NFL, and "breaking down walls in the NFL that for years have shut people out."
More and more—particularly over the past year—those walls are starting to crumble. Sowers follows in the steps of Kathryn Smith, who last year became the NFL's first full-time female coach, working in special teams quality control with the Bills. On a macro level, the NFL hired last summer Sam Rapoport, a retired Canadian women's league quarterback who started girls' flag and women's tackle programs in the U.S., in the role of director for football development. She's spent much of the past year connecting women who have experience and knowledge in the sport to decision-makers in the NFL. Last January, during Pro Bowl week in Orlando, Rapoport organized a Women's Careers in Football Forum with NFL coaches and executives that coincided with the Women's World Football Games, drawing more than 250 female tackle players from around the world. Bills co-owner Kim Pegula told the group that she had never seen a résumé from a woman come across her desk for a football operations role, so she urged them to start applying. Out of that forum, more than 20 women have so far landed jobs in football, as equipment managers, high school position coaches and NFL interns in scouting and coaching.
"Our metrics aren't getting one female in and saying we did it," Rapoport says. "Our metrics are normalizing the sight and experience of women in football operations."
This summer, eight women reported to NFL training camps for internships in scouting or coaching with the Bills, Falcons, Jets, 49ers and Vikings. Here are the stories of three of these team employees—one from overseas, one a law student, and all three football players themselves—who are seeking to make an impact in football well beyond their gender.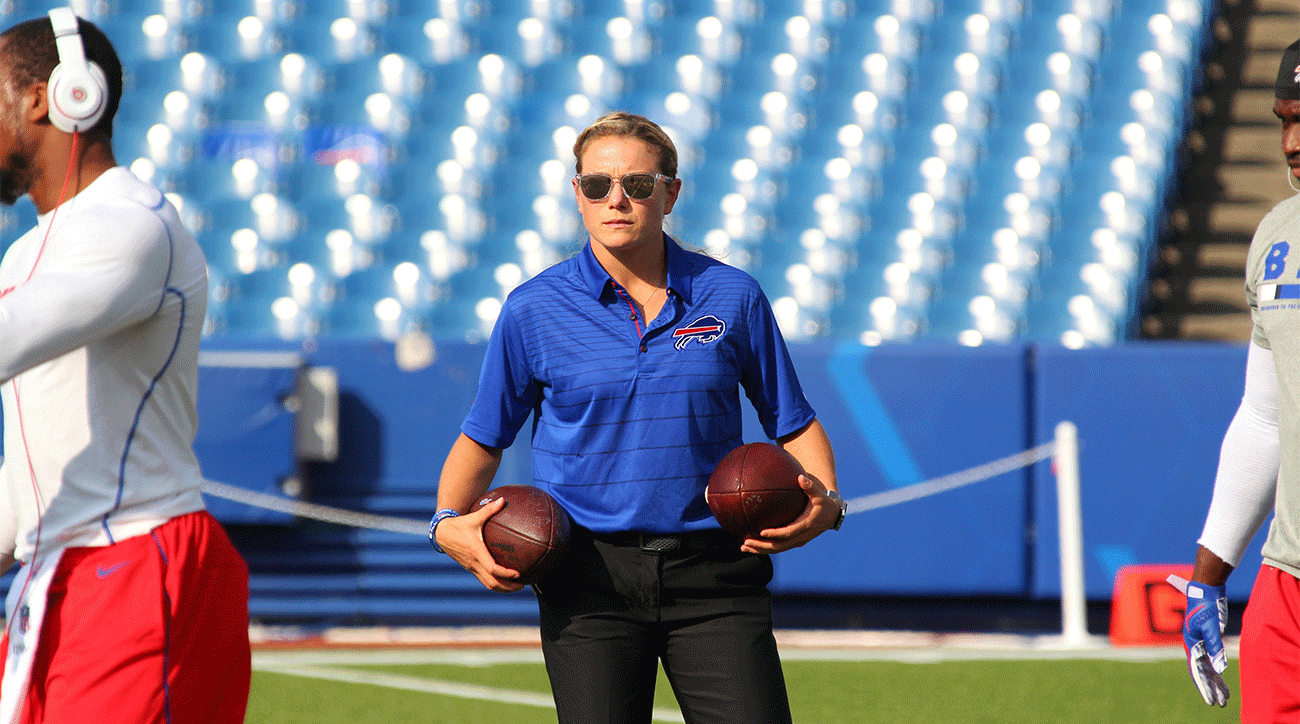 Phoebe Schecter ready to run drills at Bills camp. AP
THE MMQB: How did your opportunity in the NFL come about?
SOWERS: I had a lot of experience playing football for the U.S. Women's National Team, and I was also the co-owner of my women's football team here in Kansas City and the athletic director of the City of Kansas City. During that time, I loved coaching. I was coaching some youth football, as well as my women's team. One year, I also coached a fifth-grade girls basketball team, and I ended up coaching Scott Pioli's daughter. Scott was just finishing up in Kansas City as general manager and moving to Atlanta. He got to know me and my background, and he has this huge passion for diversity in the NFL, and the impact it has on an organization positively. We built that relationship, and an opportunity came up in Atlanta to do the coaching internship last summer, and then they kept me on as a scouting intern for the remainder of the season. I didn't expect to go through the whole season; I was supposed to end during preseason. I was very lucky to have a lot of people who believed in me and saw what I could be capable of and kept me on. I was doing a lot of work for the both the college and pro departments, doing things with future draft picks and cutting up film. I went to the East-West Shrine game, where I had actually coached the year before, to scout players and do reports on players, and same with the Senior Bowl. But the stuff I really enjoyed was breaking down the film. I had built a good relationship with Kyle Shanahan when he was OC of the Falcons; he kind of knew how I operated, and I knew how he operated, and I knew a lot of the coaching staff. That's how I came to be in San Francisco.
PHOEBE SCHECTER, 27, Bills coaching intern: There's something called the Women's World Games that's been going on for four years now. I met Sam Rapoport originally through that, and she told me I should come to this last one because she put together this women's career forum within the NFL. We had some excellent presenters and talks from Ron Rivera, Scott Pioli, Kim Pegula. A whole variety of different people letting us know about the potential job opportunities, and the ability to be able to interact and network with these people. From there, Sam had approached me to fill out the Bill Walsh Diversity Coaching Fellowship application form, and kind of directed me toward the five teams that would probably suit my personality best, and vice versa. That was back in March, and I heard back from three of the teams I'd put down on my application. [When I got the job], I got an email from Coach [Sean] McDermott saying to give him a call. He asked me a couple of questions on the phone, and he said asked me, Are you speaking with anybody else? I had been speaking with Scott Pioli at the Falcons throughout, in a mentorship or potential internship way. So I let him know, I was very transparent with everything, and he was like, Well, tell Scott we say hi, and tell him that you're coming to the Bills. I thought, Yes, this is it, this is what I want, and I can't wait to be part of this whole experience. To be completely frank, my first day I was like, Oh my gosh, there's so much more terminology and schemes that I know nothing about. But everyone helped me so much in putting me in a position to succeed.
STEPHANIE JACKSON, 29, Vikings scouting intern: Sam Rapoport and I met at one of the Women's World Games down at the Saints facility, and I just kind of poured my heart out to her. The career forum at the world games in conjunction with the Pro Bowl this year was the next level from what we had talked about in our first meeting: Opening jobs up for women who know the game as well as anyone. Sam and all the other leaders who spoke at the forum gave us tools like a career database, basically like a LinkedIn specifically for the pipeline of women coming into the game of football. So you're able to put your résumé in, and your interests and your skills, which is just perfect. Anne Doepner [the Vikings' director of football administration] needed some help in the front office, she had never had an intern before, and the first name Sam gave her was my name. Anne and I had one conversation, and she brought me on. It was just as simple as that. I'm going into my second year of law school at Mississippi College, so they got the best of both worlds: I know the game, and I know the law. I started doing work on player contracts in the front office with Anne, then I moved to work with the legal team, and then I went to work with the scouts for the remainder of camp. The positions I'm focusing on are RB and LB. Hours of film study.
THE MMQB: How did you first get involved with the game of football?
SOWERS: Growing up, when I was a little girl, football was always my favorite sport. I have a twin sister, and so we'd always get pads on and go play in the backyard with all the neighborhood boys. I remember the point when growing up, I started to realize that there wasn't a real spot for girls to play football where I was growing up. It was considered to be just a boys' game. I remember all the boys that I'd played with in my neighborhood coming home with their jerseys, and I felt like there was a lot of loss there. But, I ended up turning to basketball. My dad was a collegiate basketball coach [at Bethel College]. I played a bunch of different sports throughout college and then ended up finding out there was a women's football league after college. I ended up playing eight years—I believe I was an All-American every year that I played—and had the opportunity to represent the United States in 2013 and win a gold medal. That really developed the foundation of the love and the knowledge of football I gained from that experience. And then I took over running our women's football team here in Kansas City. I was in charge of game-day operations, and I was a player as well, because that's kind of where the women's league is right now. It's a lot of work to keep it running because, in my opinion, society doesn't really feel like football is a sport for women. It's pretty much the opposite of what society tells women they should be. When you are running a sports organization, you're looking at other things in the community that it might be competing against, and when you are trying to grow a sport that kind of goes against the grain, it makes it that much more difficult. We were trying to find our niche in the community and how to promote the game, when right now, it's hard to tell little girls they can play football when there's not an opportunity to get a scholarship in college. We need to work to get a women's game before it can grow even further.
SCHECTER: I moved to the U.K. from the States almost five years ago, and when I moved there I was looking for a way to meet people. I'd seen an ad on Facebook, crazy enough, for American football. I thought I'd try it out, get a bit of American culture in, meet some people. That's how I got into playing, and I've been playing ever since. I started coaching about two years ago on a men's team, then started my own women's team off of that. The guys said to me, You should just come play with us, so I said, OK. At the end of the day, it's my risk if I get injured or anything like that. I was really nervous my first game with the men. I didn't know how I would be, and how other teams would take it as well. I didn't want them to either go so hard because they're thinking we have to show this girl whose game this is, or the other way where they just avoided me and didn't even get into a tiff with me. But every team's been so respectful, and they treat me like any other athlete. There's been a few times I've been playing games and people on the sideline will say, Oh, you look like a girl; you sound like a girl. I'm like, Well, I am a girl. But in a way, that's nice, because they don't think that athletically, I'm not right for the game. They just look at me as an athlete amongst the rest of the guys.
JACKSON: I grew up in Baton Rouge, and in Baton Rouge, they didn't care if you were man, boy, girl, whatever—if you could play any sport, then they wanted you to play sports. I grew up playing with the neighborhood guys. My dad was always the quarterback. Of course, my sportsmanship wasn't always where it needed to be. If I didn't get the ball, I was like, Look, dad, I was open. What are you seeing? This 6-year-old is screaming at her dad. My mom did not like the notion of me playing football, even though I was way better than all the boys. I still think I am. So I got into basketball, and I kind of played football when my mom was not around. My uncle would like be like, Hey, I got the ball, let's go. I never got to play on a team, but I would go to the practices or play after school or take my dress off on Sundays and throw on my gym shorts and run out there. Football was almost like a drug; you needed a little hit. I was living in Denver later, playing a little coed flag, and when I moved down to Mississippi, I played flag. But I needed something more. The Women's Football Alliance is basically the NFL for women. My rookie season was 2015, and I was playing with the Acadiana Zydeco, and as you can probably realize, that's a team out of Louisiana. I came on with them as a rookie quarterback, which is not fun for anybody, man or woman, being a rookie quarterback. Last year, I had a long talk with the D.C. Divas, the back-to-back champions of the top division, basically the Patriots of women's football. I started law school last August, and I said I was going to take the year off, but you know how it is, athletes get crazy. I said I can do this, play football and go to law school full time. On Friday after my classes finished, I would fly out to D.C. for games, which is as crazy as it sounds. I was on the roster the whole season, but I ended up being able to make only like two games, which was very, very disappointing, that I didn't make the impact that I wanted to. So we are going to try again this year. I'll be going to school Monday through Wednesday, and I can be in D.C. Thursday through Saturday. It's a lot, but not when you have a vision for where this is going, and the next evolution of football is women in the sport; not just playing the sport, but also being leaders in the sport.
THE MMQB: Tell me about yourself as a player?
SOWERS: I played both sides of the ball, and finished playing quarterback the last few years of my career. For Team USA, I played strong safety, and I was actually a game MVP during the World Championships. It's funny because all of my coaching opportunities have been on the offensive side of the ball, but I started my career as a defensive-minded player. I'm an extremely competitive, emotional player. A lot of my natural ability came on the defensive side of the ball, which I think really drives me to be a better offensive coach. You see the way the defense operates; you see it through the defensive mind. I got to play a sport not solely based on the money, because we don't get paid, but just for the love of the game. That foundation really built me to push to learn more, just through my passion for the game, and I do think it made me a better professional in the sport.
SCHECTER: When I get on the field, it's like my own form of meditation. I don't think about anything else. I just see the play front of me, so I'm really aggressive and tenacious, and a leader on the field. It doesn't matter what I do if everyone else isn't jelling together or able to do their jobs. With the women, I play middle linebacker and outside linebacker, kind of like a nickel role. With the men it's quite similar, a nickel role, outside 'backer and then safety. I'm not trying to compete with men in terms of my size, so I wouldn't go play middle 'backer with them, because I'll just be run over. But my reads and speed and make up for my size in other ways.
JACKSON: Kobe Bryant. He's a student of the game, he's obsessive and he is definitely not the person on the court that he is off the court. He is a madman, and he's smart, too. I try to be that player. Know my opponent better than my opponent. Get into their head; it's never anything personal. Winning is fun. Not winning is not fun at all.
THE MMQB: It seems like doors are being opened for women to be considered for jobs across the board in football, more so than in the past. What do you think has brought about that change?
SOWERS: A lot of it is just awareness. A lot of times, we go through the motions until someone really stops and points out something, much as Sam Rapoport has done with her initiative and driving the push to get women in the field. There are studies that prove the more diverse an organization is, the better it operates, just because you have people who see things from different perspectives. A lot of times I think organizations are a copycat type of organization, just because it's the way things have always been done and the way things continue to be done. Until you get a diverse workforce, things don't improve as much as the potential that they really can. Sam and other people who lead the way really open a lot of those doors, and when other people see those doors opening, they then know that their opportunities exist. Until you actually can see it, I think often times it is hard to believe it.
SCHECTER: I have had this conversation with a few coaches as well, male coaches. Men have this opportunity to go from, let's say, A to Z in terms of their football careers. They go to school, they get to be around football when they're in middle school and high school and college, and there's this whole culture that comes with it. Women haven't necessarily had that situation, because it's not as common. So we're almost trying to replicate that A to Z, but in a much more condensed timeframe. In a lot of ways, we really have to dive in harder just to make up for the lost time and experiences that men have grown up with. There's this new wave coming through of women who are strong and confident. Sam's been fantastic; she's another woman who's been able to open the doors for, I imagine, hundreds of women at this point. But there's also a lot of men that are allowing women to be in these roles, and they realize the injustices, perhaps, that this sport brings to the table. And, you know, it's not a negative thing to have women involved in football. They bring a different light to it. Players actually act a little bit differently around women and maybe a bit more thoughtful in terms of their behaviors and how they handle themselves. I think it's a really positive thing. No matter what role, it broadens what you can see in front of you. For any industry, it's easy to get narrow-minded. So maybe this next wave—especially in the NFL, when everyone's trying to increase by one percent—maybe by having this person bringing this view, that will help you buy that one percent.
JACKSON: It has been convenient to try to keep women on the back burner. But now you start to realize that with this generation, and the way things are going—look at the Fortune 500 companies [the 2017 Fortune 500 list included more female CEOs than ever]. It's like Einstein's quote, you can't keep doing the same thing and think you are going to get different results. Women bring a different mindset to everything that we touch. Having women in the game is the evolution of the game. Men have had it for so long, but think about it, football fans are [nearly] 50-50 men and women, and the game has never made this much money. The NFL is making [more than] 13 billion in revenue a year.
THE MMQB: What signs are you seeing that progress is being made toward normalizing women in football operations roles?
SOWERS: I had the opportunity to talk to a sports camp here in Kansas City last year, called Camp WIN, which teaches young girls about every different sport possible. They are learning wresting, gymnastics, volleyball. I remember talking to them last year, and I would ask them, So, do you think girls can play football? And the answers were, No, that's a boys' sport. When I came to speak to them this year, the attitude was completely different. I was almost crazy for asking that question. The answer was, Of course they can. I am seeing a change in the mindset of young girls I speak to. There is less surprise when people ask what you do for a living and you say, Oh, I coach football. It's less of a shock and more so, Oh, that's great.
SCHECTER: There are young girls now that are out there playing football, and now they are on boys teams, and then that turns into playing in high school, and there's a girl who's going to be able to go be a kicker in college. Slowly, every step, these are all women, maybe they know or they don't know it, who are pioneers for this sport. They're building their way up, and that's going to make it seem like OK, well she did that, so I want to do that. I know myself, I wish I had football when I was a young girl, but it just wasn't accepted then. Now it's acceptable, and now you are getting more females playing, coaching, reffing, whatever it may be. So other young girls think, I can do that. I want to do that when I'm older. That's now their goal, whereas that wasn't even a goal that people thought of back in the day.
JACKSON: It's almost like a first to the punch thing. You see one team hire a woman, and then others will say, They must have something. But honestly, it will be results. The more success teams will have. If you know what you are talking about, know the game, get results, then nobody is going to care if you're a man or a woman. Get us results. We want to win. Anne [Doepner] and I we're talking about how you always want a different perspective. When you're looking at a player, most men would be like, What can he do on the field? Or if that player is having a bad season or bad go, you are always evaluating that player as a product. It's just like something you put on the field. How can you tweak it; does it need new batteries? Whereas women, we are so analytical, we want to know, What is this player thinking? Is this player having off-the-field issues at home? Is there something extra we need to do to help the player only focus on football? Viewing players as people as opposed to products, and a lot of time you get that with women. That's a game-changer.
Katie Sowers (third from left, in black) participates in the NFL Pro Player Combine as a scout. AP
THE MMQB: What are your career goals in football?
SOWERS: I would love to be a head coach, whether that be NFL or the college level. I just want to work in football full time as a leader, as someone who can make an impact and make a difference.
SCHECTER: I'd love to be able to be a coach over here. I'm coaching now, but it's more so volunteer over in the U.K. The dream job always is working in the NFL, but as long as I get to be a part of sport and in helping develop players, that's really what matters to me. Potentially working at a college or high school, or wherever it is that I need to start, in order to further develop myself and develop my career.
JACKSON: Ultimately I want to be a majority owner of an NFL team and also own a women's team. I'm in law school to get the knowledge, the network and the know-how to one day run a team and hire high-speed, cognitive people who have a passion for winning. I told them, You know, I'll scrub the floors if I have to, but I will get me a team, and hopefully win a few Super Bowls.
THE MMQB: What more can be done to open the door to more qualified female candidates getting opportunities in football?
SOWERS: I really just think it's more of a mindset than it is anything else. It's just being aware there are women out there. Oftentimes, we look past—and this is not just in football, it's a lot of situations just in life—and we put people into a box and say what they can and can't do. I heard an interview when I was watching NFL Network last year, and someone was talking about the future hiring of a coach and they were answering questions using "he." He's gotta be this; he's gotta be that. And this whole time, I'm thinking, they are saying, "he." Couldn't this potential coach be a she? The first step in opening doors is acknowledging that it doesn't just have to be a he. It could be a she. There is so much possibility in the diversity of the workforce.
SCHECTER: It's a tricky question, because sometimes you are bound to be like, is it positive discrimination because you're just putting women in this role for this (reason)? But you can't look at it like that. It's an opportunity, and it's kind of like playing Chutes and Ladders. Back to that idea that men have done this to A to Z, and we can't fully make up for all of that time experience. If we zip in here, we will learn so much. I mean, gosh, the amount I've learned just these few weeks alone has filled my brain, and I feel already such a higher football IQ than I ever thought possible. If people can experience a week or two weeks like this, speaking to these coaches, and learning from these players, then it is upscaling them that much faster to allow them to be in those roles in the future.
THE MMQB: We spoke about normalizing women in football operations roles. In your experience, when you're on the job, have you been made to feel aware that you're a woman? I'm asking that, because as a woman covering football, I am sometimes made to feel like a woman, and that's one of the main things that I hope continues to change.
SOWERS: When I first entered into the career, I knew that there were going to be obstacles and there were going to be situations that were going to be difficult. I think I was surprised just how easy it was, and how normal it was for me to be there. But there were times, in terms of where I was going to change prior to games, or if I was helping players with equipment, there were certain things that people thought I shouldn't do, because I had to go into the locker room. I actually went to interview with another NFL organization, I won't name which one it was, for the coaching internship, and after I got done talking to a lot of the staff one of the coaches told me that another coach had said, "Well, if we had a female on staff where would we put her desk?" That made no sense. Like, is she an alien? We'll put her desk where we put the other interns' desks. I think right now we're at a point where everything is just so new. Once we break through this initial—the first female to do this, the first to do that, all of that nonsense—we can really get to the part where we are making it normal for other women to follow.
SCHECTER: A lot of people ask that similar kind of question, even the coaches, has ever happened to you? Some guys don't agree with it because this is always been a "man's world." They're like, What is this? Why are you here? But everyone's been fantastic, and if you just talk to them and explain how, as females in the sport, we're trying to catch up. I am OK admitting that I don't know everything, because I want to learn. People let their [guard] down when they're not feeling threatened by you and that we're not trying to be them. We're just trying to learn as much as possible. So it kind of takes away that inferiority they are perhaps feeling. It's being humble but confident. There's no need to come in there like a big dog, telling everyone what you can do. Admit what you don't know, but be confident about what you do know. I found in this experience people putting me in a position to succeed. The coaches told me, OK, you're going to lead the DB drills today. At first you think, even if I do these drills at home, these are NFL athletes. But it's just a matter of taking control of it. If I do that, it builds my confidence in terms of what I can do, and it proves to the players, I'm more than just someone who's observing.
JACKSON: This is what I realized: People don't respect you until you beat them. I hate to sound savage like that. If I feel like somebody is treating me like that, I'm already coming in the room with the mindset that I want to be the best version of me ever. Not that it is anything personal, but when I leave the room, you can call me what you want, call me a woman, I don't care. But I want you to know that you just got beat by a woman. That's the fight though; the fight changes with every generation. First it was suffrage; then it was, you have to prove yourself and prove you can do this job. Now, the fight is, not only can I do it, I can do it better than you. That pisses some people off, like, I shouldn't have to be held to higher standards just because I am a woman. But, you are though. You have to go out there and take what you got and [ace] it. Why wouldn't you want to be super impressive? What you are going to start seeing is, not only will companies start hiring women just for the sake of the pipeline, they're going to start doing it because we do more impressive work, and then you force men to step it up.
THE MMQB: What do you hope the future is for women in football?
SOWERS: I hope it's not a headline when a female is hired. It's just something that happens, and it's not a surprise. Women get into this organization just as a normal function, a normal part in the machine. The normalization of women working in football would be, in my opinion, one of the best outcomes.
SCHECTER: Normalizing it. The fact that you don't have to say, Oh my gosh, there are five female interns the NFL. So what? The day that nobody even blinks at that will be a huge day for the sport, and it will happen. Every year all these teams are opening up their eyes, coaches and GMs are getting different views on everything. I think as long as we can be competitive, and it's helping, I think that everyone will kind of join in on this.
JACKSON: My hope is that it becomes a habit for American families to turn on the TV and watch women in the spring and summer play football. I'm hoping that it's a household thing on the field, and that will give women more of an opportunity who do have a love for the game and were forced, like I was, to go to another sport, just because there is nothing for them. I want to build a league for women on the field that's widely watched and is widely televised. America's game is football, and I'm hoping that we get football year-round. When I first got to the team in D.C., I went out to meet the community and talked to some people, and they said, We love the D.C. Divas because we can watch football year-round now. That's what I want it to be on the field. As far as off the field, there is no limit. There's that glass ceiling that I've been hearing about, but there is no limit now. I want to see more women in ownership; I want that to be the norm. I know I sound crazy sometimes to people. They may say, Yeah, you're a woman in this environment, and I'm like, OK. The only thing that means to me is that I have a different anatomy.
#KatieSowers #femaleNFLinterns #SamRappoport #BuffaloBills #PhoebeSchecter #StephanieJackson #MinnesotaVikings #SanFrancisco49ers